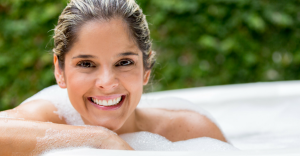 One of my dear mentors recently posted a very provocative video on YouTube. No make-up, hair undone and filled with raw emotion. It was crazy deep. In all honesty, it made me a little uncomfortable at first, but as I watched, I got completely sucked in.
I was not the only one moved. She touched the hearts of THOUSANDS of Facebook friends (read potential buyers) who responded to her post. No special lighting, no polished editing…it was her vulnerability that did it. When you are vulnerable, you allow other people to feel, share and express their own feelings more easily. What was once uncomfortable suddenly becomes tolerable or even preferable creating an ease of being that is priceless.
The result is a deeper connection and a deeper level of trust with your audience which is what happened for my mentor. Obviously, her vulnerability struck a chord with a lot of people. And here's where it gets interesting for your business. Connection is the best, most secure way to profit.
If you feel connected to someone, it's usually because they make you feel a certain way when you are with them. For example, when I saw my mentor's video with all it's deep feeling I thought, "Wow, when I am with her, I feel safe to have deep feelings too. I know I can open up to her and she won't judge me." That is hugely valuable to me and makes me feel more desire and loyalty towards her. The same will be true for you as well when you begin to open up. Your best, most perfect customers will LOVE you.
Don't think have to break down and cry to be vulnerable though. Being vulnerable just means [Read more…]